Hawaiian style permitted short term vacation rental.
Ocean views, fabulous deck, spacious and private two bedroom, two bathroom home.
Located on Maui's North Shore in Spreckelsville near Paia.
• Fully equipped kitchen.
• TV/DVD & CD players, High-speed internet access. Outdoor
• Warm shower–picnic area.
• 7 night minimum stay.
• 3 week minimum stay required during the Christmas holidays.
• $525 per night + 17.42% excise and transient taxes.
OCCUPANCY: 4 persons max.
CHECK OUT TIME IS 11AM
CHECK IN TIME IS 3PM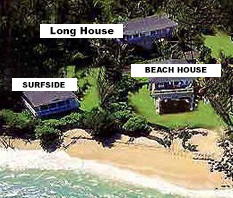 Once you have reserved Long House for a stay, you will need the code which either your rental agent or the Seversons will give you.
Use this code to enter the front gate and then to retrieve your keys in the lock box by the front door. Front door is up the stairs on the Paia side of the house. By car, take the gate clicker with you (located by the phone).
• Two cars only. Please ask guests to park outside fence by mailboxes and not in the spaces allotted to tenants.
• Outside hot shower is at bottom of stairs.
• Cleaning fee $250.
High speed DSL for computers on white cable by the TV. To access unplug surfboard unit and re-plug power. Wireless also available. The kitchen is fully equipped, as are the bath and bedrooms. DVD players, CD players and books available. All you need to bring are some magazines and DVDs, some food and your swimsuits!
At check-out, please turn off ceiling fans, leave remote gate control by the phone and lock doors. Leave key in lock box.
For a complete list of rules and regulations, see the "Information" page.